Russian troops are struggling with supply lines and falling morale, according to British intelligence's latest assessment of the war in Ukraine.
In a Twitter post shared Thursday morning, the Defense Ministry explained how the Russians have shifted their lines of attack.
It states: "Advancing offensive operations in eastern Ukraine are the main focus of the Russian armed forces.
"Russian artillery and airstrikes continue along the Donbass line of control."
Located in eastern Ukraine, the Donbass region includes Donetsk and Luhansk – areas partially occupied by pro-Russian rebels since the annexation of Crimea in 2014.
This renewed focus on the east comes after the withdrawal of troops from the Kyiv region – leading to the discovery of the Bucha massacre.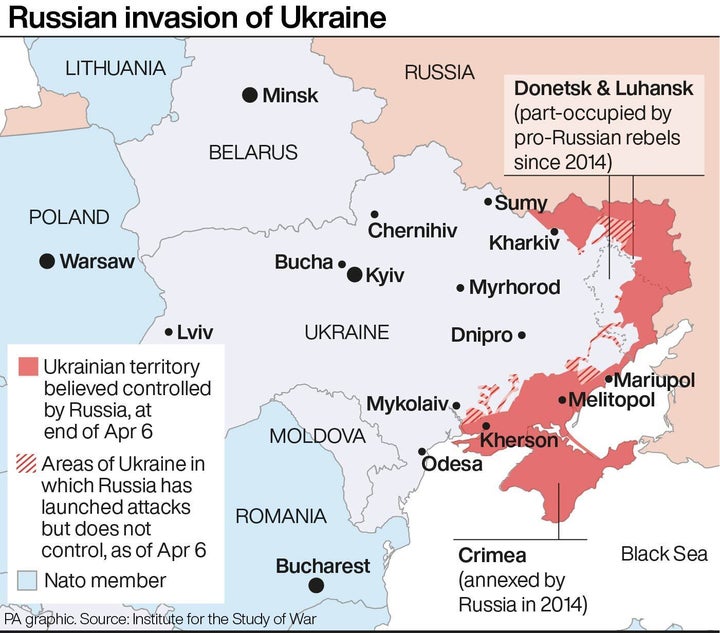 British officials also pointed out that Russian forces are attempting to influence Ukrainian supplies.
"Russian attacks on infrastructure targets inside Ukraine are likely to hamper the Ukrainian military's resupply ability and increase pressure on the Ukrainian government."
But intelligence suggests that it is in fact the Russians who are facing supply shortages – along with a lack of morale among the dwindling workforce.
The Defense Ministry tweeted: "Despite the realignment of forces and logistical capabilities in support of operations in Donbass, Russian forces are likely to continue to face morale problems and shortages of supplies and personnel."
Russian losses are certainly high. Late last month, NATO estimated that up to 40,000 troops were killed, wounded, captured or missing in action. That number is expected to have increased in April, when Ukrainians managed to drive Russians out of various cities, including Kyiv and Kharkiv.
Pentagon spokesman John Kirby went even further than the Department of Defense, expressing his belief that Ukrainian troops can win the war this week.
He told reporters on Wednesday: "Mr Putin achieved exactly zero of his goals in Ukraine.
"He didn't take Kyiv. He didn't overthrow the government. He did not abolish Ukraine as a nation state.
"And he really only took control of a small number of population centers, and even those weren't the ones he was really tracking."
He pointed out that not even Mariupol was taken – "the proof is literally in the results you see every day."
However, an earlier Defense Ministry update released on Wednesday stated that despite their various successes, Ukrainians are still suffering significantly.
For example, Mariupol, the coastal city in eastern Ukraine, is currently under siege as the Russians try to cut off their communications with the outside world.
"The humanitarian situation in the city [of Mariupol] deteriorating," officials said.
"Most of the 160,000 remaining residents have no light, communications, medication, heating or water.
"Russian forces have prevented humanitarian access, which likely pressured the defenders to surrender."