Table of contents – you can find it here
The preliminary round of the 2022 European Football Championship in England is now history and tonight the 1st European Championship quarter-finals between the hosts from England and the challengers from Spain will start at 9 p.m. In the next few days there will be a knockout game every day at 9 p.m. While England set a new record of 14 goals without conceding in the group stage, Spain suffered their first setback before the tournament when Jenni Hermoso and Alexia Putellas were injured. Tonight it's about getting into the semi-finals of the European Championship, the kick-off is at 9 p.m., ZDF is showing the game on TV and in the live stream.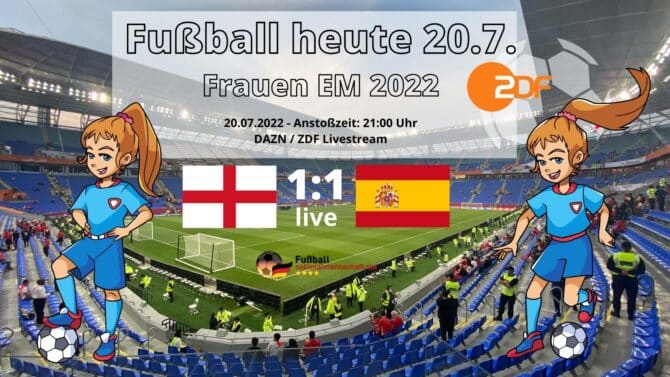 EM games today – who is playing today?
Tonight England plays Spain from 9pm in the small English town of Brighton and Hove. The game will be shown on ZDF and moderated by Claudia Neumann. On paper, England are of course the favorites as hosts, while Spain are missing important players. If everything goes as planned, the Englishwomen should win.
Live ticker today
Live ticker tonight
| date | time | team 1 | Erg. | team 2 |
| --- | --- | --- | --- | --- |
| 07/20/2022 | 21:00 | 🏴amidal | 1:1 | 🇪🇸 Spain |
10:45 p.m. – 5 minutes overtime!
10:40pm – With 6 minutes to go England equalize through Ella Toone! This was preceded by a foul by the Spaniard, but the VAR did not react.
10:10 p.m. – 75th minute of the game. England desperate, Spain continue to have more of the game.
10:10 p.m. – 54th minute: Spain leads 1-0! Esther Gonzales hits the far corner from 5 meters!
9:45 p.m. – The score is 0-0 at half-time – there were few chances to score, both teams defended well.
9:35 p.m. – After 35 minutes it's still 0-0 – an even game, Spain has more possession.
The live ticker starts here at 9 p.m.
the Lineups tonight are: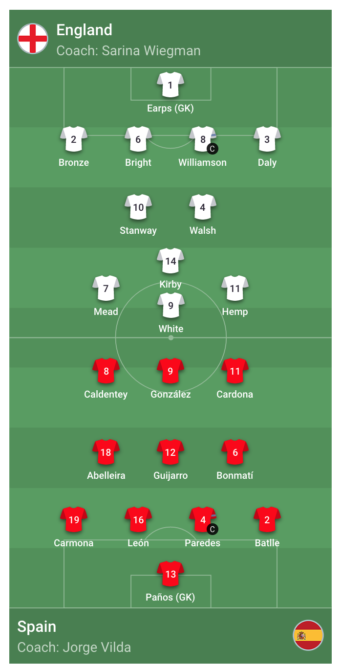 Schedule European Championship quarterfinals 2022 women
| date | time | team 1 | Erg. | team 2 |
| --- | --- | --- | --- | --- |
| 07/20/2022 | 21:00 | 🏴amidal | 1:1 | 🇪🇸 Spain |
| 07/21/2022 | 21:00 | 🇬🇧 Germany | -:- | 🇦🇹 Austria |
| 07/22/2022 | 21:00 | 🇸🇪 Sweden | -:- | 🇧🇪 Belgium |
| 07/23/2022 | 21:00 | 🇫🇷 France | -:- | 🇳🇱 Netherlands |
How did Spain get to the quarter-finals of the European Championship?
Spain's route to the quarter-finals was not without obstacles. A goal against Finland in record EURO time was just a stumbling block. There was no comeback after the early goal in the second game against Germany, although the Spaniards scored four goals – three of them from open play.
The first setback came before a ball was even played, because alongside Jenni Hermoso, Alexia Putellas also had to stay home injured. Without these two players, the team's power is inevitably limited. While coach Jorge Vilda kept changing his side in search of a solution, Spain kept playing their game – and were rewarded in the decisive match against Denmark with a goal from substitute Marta Cardona.
Group B runners-up
Spain 4-1 Finland (Milton Keynes) – Paredes 26, Bonmatí 41, Lucía García 75, Caldentey 90+5E; Salstrom 1
Germany 2-0 Spain (London) – Bühl 3, Popp 37
Denmark 0-1 Spain (London) – Cardona 90
How did England get to the quarter-finals?
A record 14 goals without conceding in the group stage is quite an achievement from this English side. One can imagine that Sarina Wiegman will not complain, but one also senses that she will ask for more. Tougher tests lie ahead but the chants of 'It's Coming Home' chanted at St Mary's after the game against Northern Ireland show the nation is full of anticipation and this side have so far shown they can cope with the can handle pressure.
The football we've seen so far hasn't just been 'out of the box', it's been dominant, stylish and energetic. Let's hope the knockout stage goes similarly.
Group A Winner
England 1-0 Austria (Old Trafford) – Mead 16
England 8-0 Norway (Brighton & Hove) – Stanway 12pen, Hemp 15, White 29 41, Mead 34 38 81, Russo 66
Northern Ireland 0-5 England (Southampton) – Kirby 41, Mead 45, Russo 48 53, Burrows 76og
More information on the women's national football team 2022
Who is showing the women's EM on live TV today?
ZDF will broadcast the first game tonight in the quarter-finals of the European Championship between England and Spain and the fourth game between France and the Netherlands. Claudia Neumann will moderate the 1st quarter final today.
Who will win the European Women's Football Championship?
2 more games for the final teams, then it's about the crown of women's football in 2022. According to the FIFA world rankings, the Swedes are in second place, followed by France, the Netherlands and Germany. However, the tournament showed that England, Germany and France are among the best teams at the moment. These three teams should probably figure it out among themselves.