8:15 a.m
Mercedes announce update for Silverstone

After the podium in Canada, technical director Mike Elliott announced with regard to the Silver Arrows' home game: "We will bring new parts to Silverstone. We will try to bring the car forward."
In Silverstone they want to "get some pace out of the existing package" and take another step forward with the updates. But will that be enough to fight for victory in a week?
"I think Silverstone is a circuit that suits us a little better – like Barcelona," said Elliott, but he also emphasized: "At the same time, we have to be honest with ourselves and say that we're a bit behind Ferrari and Red Bull at the moment are."
He therefore believes: "In a normal race, it will be difficult." The goal, of course, is to win again in the foreseeable future. At Silverstone, however, it could still be a little too early for that.
3:30 p.m
Quitting time!
That's it again, we turn off our ticker for today. As promised, we'll be back for you tomorrow with a new issue before we head into the weekend.
Have a nice Thursday and see you tomorrow!
---
3:21 p.m
ADAC GT Masters at Zandvoort
No Formula 1 at the weekend, but still want to do motorsport? Then I can recommend the "Beach Party" of the ADAC GT Masters! The third event is scheduled for the weekend at the Circuit Zandvoort on the Dutch North Sea coast.
A very good opportunity, for example, to familiarize yourself with the track again, because at the beginning of September the Formula 1 Grand Prix of the Netherlands will take place again in Zandvoort.
Information on the schedule, live stream and TV times of the ADAC GT Masters in Zandvoort can be found here!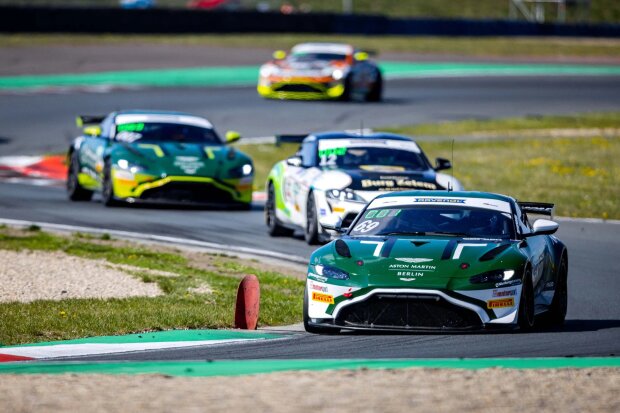 ---
2:57 p.m
Pirelli: New tires work
One goal of Formula 1 was to enable closer racing again in 2022. Mario Isola from Pirelli sees the duel between Verstappen and Sainz in Montreal as proof that the tires are doing their part.
"That's exactly what happened with Max and Carlos – and also at the back with Alpine and Leclerc and many other cars," Isola is satisfied and explains: "It means that the tires have this possibility [zu engem Racing] Offer."
"Obviously we know we can improve for the future. […] But the first goal was achieved and that was really important for us."
---
2:29 p.m
Wolff: Your own opinion is important
The Mercedes team boss told 'Sky' that he believes it is "extremely important" that there are drivers with personality in Formula 1 who are not afraid to speak their mind.
"I think, especially at a time when we have a global sport, we have to be able to express our opinions," said Wolff. Incidentally, we also talked about exactly this topic in the current issue of Starting Grid.
Here is the direct link to the podcast!
---
2:01 p.m
Where Ricciardo sees "encouraging signs".
"Those were the steps we needed, and I'm doing them now," says a satisfied Ricciardo after the Canada race and explains: "I'm happy with this progress. It has to go on like this now."
This is not reflected in the bare figures or the rather mixed Montreal result. You can find out here why he still recognizes "encouraging signs"!
---
1:44 p.m
37 years ago today…
… Stefan Bellof got the best result of his Formula 1 career. At the 1985 Detroit Grand Prix, he finished fourth for Tyrrell behind winner Keke Rosberg (Williams) and the Ferrari duo of Stefan Johansson and Michele Alboreto.
In theory, of course, Bellof had already achieved a better result on the track. But his third place at the Monaco GP in 1984 was subsequently revoked because Tyrrell was disqualified from the entire season at the time…
---
Photo series: Stefan Bellof's career
---
---
1:15 p.m
New Handicap
From July 1st, new handicap values ​​will take effect in Formula 1 during development. As a reminder, the teams that are behind in the World Cup will get more development time to close the gap.
These values ​​are updated every six months. The deadline for the next adjustment is June 31st. Because there will be no more races until then, we already know what the new values ​​will look like.
Mercedes will have more development time from July because they fell back to P3 behind Red Bull and Ferrari in the World Championship after winning the title last year.
As a result, Red Bull and Ferrari will lose some time. The same goes for Alfa Romeo and Haas, while AlphaTauri, Aston Martin and Williams get more time. At McLaren and Alpine everything stays the same.
Here is the complete overview of the old and new values:
---
---
12:51 p.m
Speaking of Williams…
Very funny detail that the team draws our attention to. Today is June 23rd. – and thus quasi "Williams Day", because these are the starting numbers of Albon and Latifi.
By the way: In the current Formula 1 field, such a combination is only possible with AlphaTauri, Aston Martin, McLaren and Red Bull.
For all other teams, no possible date combination can be formed from the start numbers. I give myself the award for the most pointless stat of the day!
---
12:32 p.m
Are the quad headers coming soon?
Apparently, Formula 1 can no longer do without a triple header. A few years ago that would have been unthinkable. Would the next logical step be that at some point there would even be four races in a row without a break?
"I would be surprised if we had four races in a row," muses McLaren boss Zak Brown. With three races in a row, the Formula 1 team bosses don't seem to have a problem – at least under the right circumstances.
"When they are in different time zones, it's very tough for the team," explains Williams team boss Jost Capito. But: "If they take place in the same time zone and the distance is not that great, then it is quite feasible."
Maybe in five years the same will be said about quadruple headers…
---
12:09 p.m
Red Bull under pressure at Silverstone?
In Canada, Verstappen only won by a hair's breadth ahead of Sainz. And team boss Christian Horner believes that the competitors could put even more pressure on Red Bull in the upcoming race.
"On paper you could say that this is a good track for Ferrari, like Barcelona," he says on "Sky" and recalls: "Mercedes was very strong there towards the end of the race, so Mercedes could be a factor in Silverstone."
"It should be interesting. One hears that Ferrari will bring a few upgrades. It will be exciting," said Horner. In fact, Barcelona was Mercedes' strongest race of the season and without a defect, Leclerc would probably have won there.
And now we have heard that Mercedes will also bring new parts to Silverstone. So it could indeed be tight for Red Bull!
---
11:48 a.m
Hamelin meets Hamilton
You remember Charles Hamelin? This is the short tracker who wore a Hamilton-designed helmet at the Winter Olympics. We reported here in the ticker at the time. Now the two have met in person!
Background: Hamelin comes from Canada, which is why the two used the GP at the weekend to meet up. So of course he presented his helmet to Hamilton again!
---
11:34 a.m
Without a win…
… Incidentally, these drivers have remained for Ferrari since 1960. After extending his contract, Sainz still has some time to prevent his own entry…
---
Photo gallery: Since 1960: Ferrari Formula 1 drivers without a win for the Scuderia
---
11:11 a.m
Brundle: Sainz is still missing that
The Spaniard is still waiting for his first Grand Prix victory. "I've always been a big supporter of Carlos, and sometimes it felt like I was pretty much alone in the paddock," writes Martin Brundle in his column for 'Sky'.
"But he is very good – especially in the races," he emphasizes and explains: "The last hurdle for him is to combine his talent, sheer determination, aggression and experience." In addition, Sainz is still missing a bit of "consistency".
If everything fits together, then Sainz will get his first win. And Brundle believes the knot could finally burst after Sainz made it to the top of the podium for the first time.
---
10:50 a.m
Binotto: FIA chose the wrong path
A Technical Guideline (TD) from the FIA ​​caused a stir at the Canada weekend. This should ensure that the bouncing of the cars gets under control. But according to Mattia Binotto, this guideline was not implementable for the teams.
Among other things, the teams should be allowed to attach a second support strut to the underbody. The problem according to Binotto: "A TD is there to clarify the rules […]but a TD cannot change the rules."
In the end there was a conflict between TD and the existing Technical Formula 1 regulations. "You can't change the rules with a TD," clarifies the Ferrari team boss.
Even when it comes to safety issues, where the FIA ​​​​can override the teams in the decision-making process, according to Binotto, you have to go the official route via the World Motor Sport Council and Co.
This is not possible with just a technical guideline. That's why Mercedes removed the additional struts on the W13 after the training session.