Mozilla has released Firefox 102 for Windows, Apple macOS and Linux. This article summarizes the most important innovations – as always on this blog in much more detail than on other websites.
Download Mozilla Firefox for Microsoft Windows, Apple macOS and Linux
More download improvements
With Firefox 98, Mozilla made fundamental changes to download behavior. Based on user feedback, Firefox 101 brought back a simple option to be prompted before each download. With Firefox 102, further feedback will be implemented.
The new switch browser.download.start_downloads_in_tmp_dir can be switched to true via about:config with a double-click so that Firefox uses the temporary download directory again, in which these (on non-macOS platforms) are automatically deleted.
The automatic opening of the download panel whenever a new download starts can be switched off via a right-click option on a download entry in that panel. This could already be switched off, but so far only via about:config and not via a visible option.
Subtitles for picture-in-picture videos on more streaming platforms
On websites that support the WebVTT standard and on the popular video and streaming platforms YouTube, Amazon Prime Video and Netflix, which use their own solution instead, Firefox has been able to display video subtitles in picture-in-picture since version 100. Show picture mode.
Firefox 102 brings additional subtitle support for HBO Max, Funimation, Dailymotion, Tubi, Disney+ Hotstar and SonyLIV.
More security for Firefox users
Several security gaps have also been closed in Firefox 102. For security reasons alone, an update to Firefox 102 is therefore strongly recommended for all users.
Audio decoding now takes place in a separate process with stricter sandboxing rules.
Also, SHA1 signatures in certificates are no longer supported by default.
Other new features of Firefox 102
Firefox 102 automatically removes certain tracking parameters when navigating websites when using the strict Tracking Protection setting.
The panel for saving pages in the Mozilla service Pocket has been redesigned.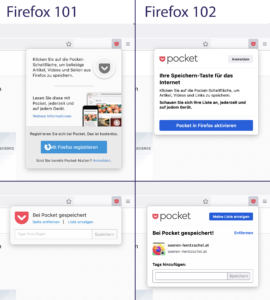 In the print preview, there is now an option for PDF files not to print the headers and footers.
Reading View now supports Markdown files on GitHub.
The logo of the search engine Ecosia was adapted to the new design.
The loaded style sheets can now be filtered in the style editor of the developer tools.
There were also innovations for developers of websites and Firefox extensions, which are documented in the MDN Web Docs.
New base for Firefox ESR
Firefox 102 replaces Firefox 91 as the basis for Firefox ESR, the enterprise version of Firefox with long-term support. The differences between Firefox 102 and Firefox ESR 102 as well as useful information for system administrators are covered in a separate article.