10:37 a.m
Haug: Silverstone "the model track" for Mercedes
We have just spoken about the Mercedes chances at the weekend. Ex-Mercedes motorsport boss Norbert Haug explains to 'Sky': "Now it's supposed to be in Silverstone […] the road should be less bumpy and there are a lot of them […] high-speed corners."
"And that should be the concept of the Silver Arrow," he suspects and explains: "From the paper form […] Silverstone should be the model track where you can perform very, very well." However, he deliberately stays in the "subjunctive" here for the time being.
Because 2022 would not be the first time that the real result on the track deviated quite a bit from the expectations in advance. Haug therefore remains cautious with a concrete forecast for the time being.
---
First "bouncing", now "bottoming" – that's behind the new problems in F1
After the problems with violent "bouncing", the drivers in Formula 1 are now complaining about "bottoming". Sky expert Norbert Haug explains what's behind it.
---
10:15 am
19 years ago today…
… Ralf Schumacher celebrated his second GP victory on German soil. After triumphing at Hockenheim in 2001, he won the 2003 European Grand Prix at the Nürburgring ahead of his Williams teammate Juan Pablo Montoya.
The tragic figure that afternoon was Kimi Raikkonen, who retired with an engine failure while in the lead. In retrospect, this failure cost the Finns the World Cup, because at the end of the year he was only two points behind Michael Schumacher…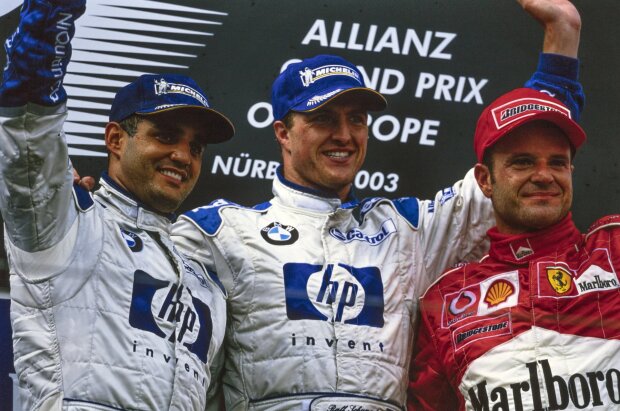 ---
09:56 am
Mercedes: Are not the favourites
That in turn is a sentence that many Formula 1 fans have heard too often in recent years. The difference, however, is that it is usually correct in 2022! So the Silver Arrows don't expect a win before Silverstone either.
"We never rule out a win when we travel to a Grand Prix," Andrew Shovlin told Sky ahead of his home race. However, he emphasizes that Mercedes is "definitely not the favorite" and is probably only the third-best team again.
"Of course it depends on how the car performs," ​​says Shovlin, who explains that in the "best case" you're as fast as in Barcelona. "We weren't far off the pace of the leaders," he recalls of the Spanish GP.
A win on your own might be difficult on Sunday.
---
9:36 a.m
Season start 2023 already in February?
The 2022 season ends "already" in November. You would have been looked at strangely for the sentence 20 years ago… In any case, this could mean that the 2023 season starts as early as February. This is what our Italian colleagues report.
Background: Because 24 races are to be held in 2023, an earlier start to the season could avoid possible triple headers and thus distribute the load a little better. In addition, the "early" season finale in 2022 would also give you the scope to do so.
There is no official draft calendar for 2023 yet, but at least several team bosses are said to have spoken out in favor of an earlier start to the season. Of course we keep an eye on it.
---
Photo gallery: Melbourne and Co.: The Formula 1 season opener took place on these routes
---
9:16 a.m
Big update for Mercedes?
It's no secret that many teams will bring new parts to Silverstone. Red Bull team boss Christian Horner reveals in relation to 'Sky': "We're hearing about a big update at Mercedes."
In any case, he does not want to write off the Silver Arrows prematurely at the weekend. "Silverstone is a different challenge. It's a fast circuit with flowing corners," recalls Horner.
And the main rival Ferrari was "very strong" in Barcelona, ​​for example. So are we witnessing a three-way battle at the top? Could be just fine with us!
---
---
---
8:19 a.m
Red Bull throws VIPs out
Unfortunately, Piquet's comments were not the only racist incident in recent days. Red Bull Junior Jüri Vips had previously made racist comments in an online game – and now has to pay the price for it.
Red Bull announced last night that the contract with Vips has been terminated following an investigation into the incident. "The team does not tolerate any form of racism," says a statement from the racing team.
Previously, Vips had already been suspended. The expulsion has (for the time being) no effect on his involvement in Formula 2.
---
8:11 a.m
Solidarity with Hamilton
Nelson Piquet's racist remarks sparked a wave of solidarity with Lewis Hamilton yesterday. We've collected tweets from teams and fellow drivers here:
---
---
---
---
---
8:05 a.m
There are more important issues than sport
Hello and welcome to a new edition of our Formula 1 live ticker. We would like to look forward to the Grand Prix at Silverstone in a relaxed manner today. But the events of the past few days have ensured that we first have to talk about other and actually more important topics here in the ticker.
Ruben Zimmermann accompanies you through the day at this point. If you have any questions, suggestions or complaints, you can use our contact form. You can also find us on Facebook, TwitterInstagram and YouTube, and if you have any questions, use our Twitter hashtag #FragMST.
Here you can read our live ticker from Tuesday again!