6:27 p.m
Russell: Couldn't avoid Perez anymore
Unsurprisingly, he has a slightly different opinion on the accident with Perez than the Mexican. "I watched the video and I find it hard," he said of his sentence. Because Perez's maneuver was "brave".
And in the end he just ran out of space. He apologizes to Perez for the accident. But he also emphasizes: "There was nothing more I could have done. I braked and turned in as hard as I could."
To make matters worse, his own car was also damaged. "I lost a lot of lap time from the damage, about a second per lap," he reports. Then there was the punishment.
It's almost a miracle that he ended up fourth!
---
6:18 p.m
Vettel: The car may already have broken down
Once again not his weekend. Crashed with Albon yesterday, with Gasly today. He was in front and left "a lot of space", emphasizes the four-time world champion. After that his race was over.
And the Aston Martin may even have been damaged before. "It was a difficult race because I was hit by some debris on the first lap," reports Vettel.
They might have damaged the car at the beginning of the race. In the end it was just "a pretty unfortunate weekend" – once again …
---
6:10 p.m
Ricciardo: Satisfied but not happy
P9 and only points for the Australian for the third time this year. "I would say satisfied. I wouldn't say happy, but satisfied," he describes his state of mind after the race.
He is not happy because he felt worse than yesterday in some corners today. "That was a bit frustrating," he admits, adding that he ruined his tires early on in the first stint.
He says he wished he could fight with his teammate and the Haas pilots. But they were a bit too fast for him today.
---
6:02 p.m
Magnussen engine problem
P8 for him today. But the good result did not come without difficulties. "I had an engine problem," he reveals. That was only "small". But he was "very nervous" that the engine could explode.
He had had small misfires, but the car was still "very fast". "It was a great weekend," he says after scoring points in yesterday's sprint.
The weekend was almost "perfect" for Haas – even though he "prayed" today that his engine wouldn't start up. Because the problems started after about 15 laps.
---
5:55 p.m
Perez: Russell couldn't control the car
"I was clearly ahead," says the Mexican about the situation with Russell, explaining that it was the Mercedes driver's job to control his car, "which he clearly couldn't do," Perez shoots towards Russell.
That's how the crash happened. "There was nothing I could have done. I gave him enough space," said Perez, who emphasized that he was almost in the gravel trap. He was "very surprised" that Russell didn't prevent the crash.
Ultimately, he was "very disappointed" with his failure. "The damage was just too great," he explains.
---
5:48 p.m
Gasly accepts his penalties
"The weekend was a disaster," dismisses the Frenchman, explaining that his pace was "nowhere". To make matters worse, he was then punished twice – once because of the track limits, once because of the Vettel accident.
"The rules are the same for everyone," he says of the track limits. So he accepts his punishment. This also applies to his second penalty, although he makes it clear that of course he didn't clear Vettel "on purpose".
"I haven't seen the footage yet, so I'm not saying anything about the penalty. I guess because they gave me that means it's my fault," he shrugs.
---
5:40 p.m
Wolff: "Another good race pace"
The Mercedes team boss is of the opinion that the race was not necessarily lost today. "Yesterday we actually lost it a bit and also today with the crash with Perez," he says on 'Sky'.
"But we had a good race pace again. I think we were the second fastest team at times. We have to analyze that carefully now," says Wolff, who sees at least "little rays of hope".
Because now it is the case that Mercedes has "more competitive sessions" than bad ones. "And Paul Ricard should suit us more," said Wolff aggressively. We are excited!
---
5:34 p.m
Schumacher: Backing for Vettel
Let's move away from the sporting situation for a moment. One of the big issues last night and this morning was that Vettel left the drivers' briefing on Friday – and got a penalty for it.
He now gets support from Schumacher. "I had the impression that we were going in circles on some issues. It took longer than necessary. I completely understand how Sebastian reacted," he says.
"And I think there were some drivers who also felt the urge to leave the meeting," said Schumacher. Maybe that's why the FIA ​​imposed a penalty…
---
5:28 p.m
McLaren with both cars in the points
Seidl had given that as his goal yesterday. And you actually did that with P7 and P9! He was "satisfied," he says on 'Sky' and explains: "We haven't forgotten what our faces looked like on Friday night."
There you had a "catastrophic Friday with many problems". "And we really were able to work our way up through the sprint and today, collecting good points for the constructors' championship," said Seidl.
"We got a five-second penalty, otherwise we would have gotten Mick with Lando," believes the team boss. But he still has no problem with the penalty, that's the rules.
---
5:23 p.m
Alonso: What happened at the pit stop?
The Spaniard stopped behind the VSC – and came straight in again a lap later. what happened there? "Right after the first sector I felt hard vibrations from the tyres," he reports.
"That's why we decided to stop again," said Alonso, who even picked up a point in tenth place – at least for the time being. Because there is also an investigation against him because of the pit stop.
"I have no idea," he shrugs and explains: "If there's an investigation, I don't know why at the moment." But he believes that without the extra stop he would have finished sixth.
Not too bad after starting from P19.
---
5:17 p.m
Marko criticizes Perez
Was the Mexican's maneuver against Russell overly motivated? The Mercedes driver was punished for it. But Helmut Marko is not happy that Perez even tried it there.
"We said before the start: 'Not on the outside of this corner, that's not possible.' We've already had experience with the Albon here," he recalls on 'Sky', which is why the campaign was "bitter" today.
"Unfortunately that was unnecessary," said Marko.
---
5:12 p.m
Red Bull defeat came as a 'surprise'
Helmut Marko admits that. "After the actual superiority on Friday and Saturday, that came as a surprise," he says on 'Sky', adding that the "such degradation" of the tires "cannot be explained" today.
"All the more surprising: with the last sentence, our pace and also the tire temperature and degradation were all right. So what was going on there … I hope we can clarify that," he muses.
"But we're happy to accept second place," he says forgivingly and adds: "We also have the fastest lap. So the damage limitation is within the realms of possibility."
---
5:07 p.m
Schumacher: "Getting closer to the top 10"
"I think we're completely satisfied with today," says the German happily on "Sky" and reminds: "I think yesterday we unfortunately dropped a few points." But today everything was fine.
Regarding his struggles on the track, he says: "I feel very comfortable there. Of course I would feel most comfortable up front, but we'll probably have to wait a bit for that."
"But I think that, as I said, we have a car that we can fight with, which sometimes means we don't have to take too many risks to get past. Because we have this speed," said Schumacher.
"Therefore: very happy with what we achieved as a team today. We're getting closer to the top 10," he says happily.
---
5:02 p.m
Sainz mourns a double victory
"I'm at a loss for words," says the Spaniard on 'Sky'. The pace was good today, the tire degradation wasn't too high and a double win could have been achieved. But then his engine blew up.
Incidentally, this is the fourth retirement for Sainz in the eleventh race of the season. After his victory in Silverstone, he's back on solid ground – also with regard to the World Championship.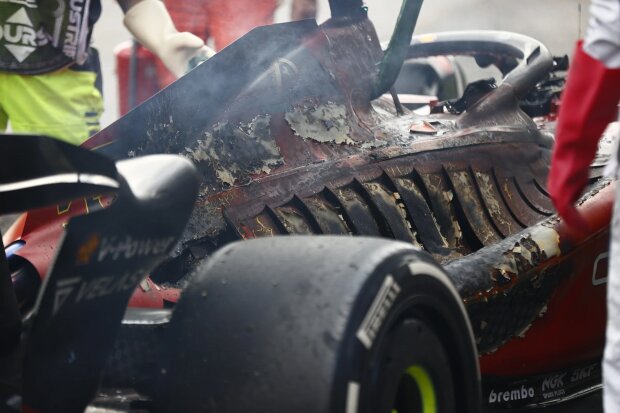 ---
4:57 p.m
Hamilton: Didn't expect a podium
As a reminder: He only started the race from P8. "I definitely didn't expect that," he admits and recalls: "Yesterday was a difficult day for us. It was a tough weekend."
Therefore he is "grateful" that the team got P3 and P4 today. "These are great points," said Hamilton, who once again thanked the team for their work after his crash on Friday.
After qualifying, he probably wouldn't have thought of being on the podium today.
---
4:52 p.m
Verstappen: Tires were the problem
"It was a difficult day," admits the world champion and explains: "We seemed to have some problems with the tires straight away. This then ran through virtually every single compound."
He simply had "too much breakdown" to be able to attack Leclerc. "But second place is still a good result for us on a difficult day," he said in a forgiving manner.
Especially since he only lost six points to Leclerc in the World Championship today because he still drove the fastest lap.