Sky Germany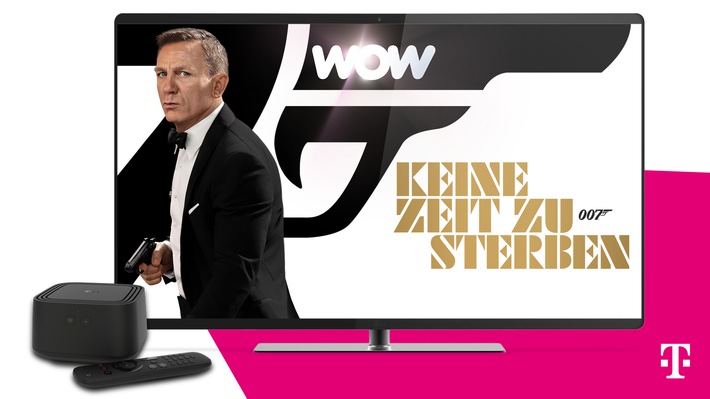 Unterfoehring (ots)
The WOW app will be available on Deutsche Telekom's media receivers and MagentaTV box from July 5th
MagentaTV customers will soon be able to access WOW series and blockbuster films as well as the best live sports
Easy access to content: All WOW linear TV channels are conveniently integrated in the program guide on MagentaTV devices
Easy to book: WOW can be purchased seamlessly via all Telekom sales channels and paid directly via the Telekom bill
Unterfoehring, July 04, 2022 – MagentaTV customers have reason to be happy: the provider will fully integrate the WOW streaming service into its offering from July 5th. In addition, the WOW streaming app will soon be available on the media receivers and the MagentaTV Box, including on MagentaTVOne and the MagentaTV Stick. A particular advantage for customers: All linear TV channels from WOW are conveniently integrated into the program guide on these MagentaTV devices and can be played directly.
Whether WOW series, WOW films & series or WOW live sports – all WOW options are available through all Telekom sales channels and can be paid directly on the Telekom bill.
MagentaTV customers can enjoy a wide range of exclusive and high-quality content with WOW. Streaming has never been so WOW – because there is something for every taste: the range includes Sky Originals, such as Babylon Berlin or The boatas well as productions from HBO, such as House of the Dragon and And just like that. The series portfolio also includes content from Peacock, NBC Universal's streaming service.
In addition to additional blockbusters shortly after the cinema, for young and old, the WOW offer also includes all live sports from Sky: This includes all Bundesliga games on Saturday, all games in the 2nd Bundesliga, the DFB Cup and the Premier League and all Formula 1 races, all games of the LIQUI MOLY Handball Bundesliga, the best US sport from the NHL and world-class tennis such as the legendary Wimbledon tournament and the entire ATP Tour.
Sarah Jennings, Senior Vice President WOW at Sky Germany: "From July 5th, WOW will be available on all relevant Magenta TV receivers – the expansion of the partnership with Telekom is an exciting step for us! Because WOW will be available on Telekom's media receivers and will be easier to book, we will facilitate MagentaTV Giving customers access to the entertainment they love. Streaming has never been this WOW!"
____________________________________________________________________
About WOW:
The streaming service WOW is available anytime, anywhere and without a long contract. For WOW, customers only need an internet-enabled device. A receiver is not necessary. Regardless of whether customers want to see award-winning series, blockbuster films, live sports or just an extra television program for the children, WOW always has the right packages for series, cinema and sports.Speaking of sport: With WOW, customers can experience the best live sport, including all games in the Bundesliga on Saturday, all games in the 2nd Bundesliga, the DFB Cup and the Premier League, all Formula 1 races, the LIQUI MOLY Handball Bundesliga, the Wanda Diamond League, as well as the best of tennis, golf and much more With WOW, film and series fans can stream more than 1,000 films, blockbuster series from HBO and Peacock as well as award-winning Sky Originals at any time without a long-term contract. For more information visit https://www.wowtv.de
Press contact:
Lisa Rothneiger
External Communications
Tel. +49 (0) 173 1724381
lisa.rothneiger@sky.de
twitter.com/SkyDeutschland
Contact for photo material:
Patricia Navarijo Gomez
Images.Presse@sky.de
Or directly via the photo web: https://medien.sky.de
Original content from: Sky Germany, transmitted by news aktuell